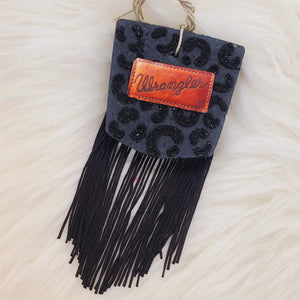 Freshies-Fringe Pocket-Black
Scent Descriptions - This is a comprehensive list of all of our scents, 
Bird of Paradise (Best Seller) -
A combination of strawberry and almond.
Butt Naked - Available in Freshies, Oils, & Sprays. May - Aug for Wax
Fruity floral blend combining green apples, pears, melon, and strawberry with a fresh hint of cherry.
Cactus Flower (Best Seller) -
A refreshing blend of fresh flowers and light coconut with a touch of soothing sandalwood.
Bright juicy cherry blended with leather.
Mango is the star of this medley of tropical fruit. Orange, cherry, papaya, pineapple, & coconut round out this delicious fragrance.
Fresh Air & Sunshine (NEW) -
Mandarin mist, cotton blossom, linden flower, driftwood, and crisp musk blended to capture the true essence of clean air.
Genuine Leather (Best Seller) -
The familiar scent of leather. Clean and nostalgic.
Lemon Tree - Available in Wax, Oils, & Sprays.
Naked Cowboy (Best Seller) 
Creamy coconut with sweet pineapple.
If you loved San Jose Island or Horseback this is the scent for you! We've brought back many of the same components: warm woodsy, amber & musk balanced with citrus & mint notes to create an aroma reminiscent of being on a beachside trail in a remote tropical location.
Blend of rare mahogany layered with sandalwood, vanilla, with a touch of leather.
Sex Panther (Best Seller) -
Blend of vanilla, orange, and genuine leather.
Strawberry Leather (Best Seller) 
Citrus and fresh with notes of rose, jasmine, and lily enhanced by woo- Available in Wax, Oils, & Sprays.
Sweet vanilla and warm driftwood come together in this cozy, soothing fragrance.
The following are only available seasonally
Golden Apple Pancakes - Available Aug - 
A sweet confections of light cinnamon dusted donuts and fall apples.
Woodsman - Available Aug -
Spiced apples & oranges blended with leather.
Cinnamon Vanilla Honey Butter - 
A yummy blend of cinnamon & vanilla.
Pumpkin Spice- Available in Fall 
Vanilla pumpkin with nutmeg, cinnamon, clove & ginger.
A nutty, buttery scent with a splash of maple syrup.
Inspired by the B&BW Flannel scent, this is a more woodsy, masculine scent, but it's still extremely popular with women. A blend of bergamot & mahogany.
Tahitian Coconut & Vanilla 
Creamy coconut and vanilla bean.
Watermelon and iced lemonade blended for an ultra refreshing svent.
Hypnotic blend of citrus, rich florals, and warmA musk and wood notes.
A zesty scent blending sweet mandarins, golden oranges with juicy cranberries and plums.
Creamy buttery custard with vanilla bean and a hard scorched caramel topping.
Cozy dark roast with hints of cinnamon & vanilla.
A light, fruity top note gives way to soothing summer floral notes on a background of vanilla musk and sweet sandalwood.
A rich, spicy fusion of orange peel, clove and cinnamon on a base of sandalwood.
Bright combination of juicy berries and ripe pears followed with hints of spring florals and a dry down of soft musk and light woody notes.
Fresh cut melon, island coconut and palm leaves combine to create the ultimate sun inspired summer scent.
Light fruit notes, rain accord. Jasmine and geranium with a base of soft woods.
Caribbean Pineapple -
a with fresh green notes. Reminds you or the exotic scent of the Islands.
---